As I mentioned before, Elaine and I are doing a skill swap: gilding for stained glass work. In the past weeks we were working on the gilding of her royal bed, which is a nearly finished project (can't wait to see the final results!) and I had my 2 day stained glass workshop. Elaine was a fantastic teacher and she put a lot of effort and patience on teaching me all the necessary to complete my first project, this lightcatcher: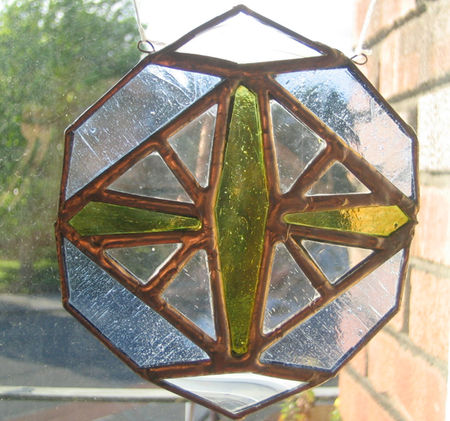 Check all the process at the teacher's blog.
The pattern for this project is my design too. It comes from the origami boat I played with before, have a look here, and here in the process of being printed on fabric.
I had a great time working with glass, my favorite part was soldering the joints with lead. Thanks Elaine!