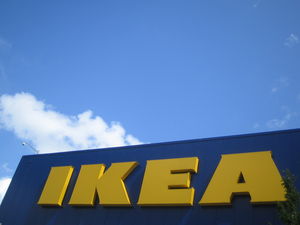 Yesterday was the offical opening of Ikea Dublin after a long and hard expectation.
Personally, being welcomed by people in Swedish folk costumes and ABBA music playing out loud was quite a surreal experience for me but it didn't seem to affect the Dublin hordes pushing their overloaded shopping trolleys. Happiness was in the air.
Inside the building the number of children magically multiplied by ten, or maybe there weren't that many but just an optical illusion due to the fact that they were running in all directions. Adults were busy opening all doors, pulling all drawers, sitting on all sofas and checking all books, and yes, they are all in Swedish.
I'd say Dubliners gave a very warm welcome to Ikea. I suppose they are grateful for being liberated from the very unstylish Argos. I tasted some Swedish biscuits, didn't buy a thing and then I went for a walk in the Botanic Gardens, a much more relaxing place.