So this is the list of the shops shown in the map above, organized by category.

Fabric/Yarn/Haberdashery:
One of the reasons why I didn't want to come back to Dublin. In Freiburg the shops selling textiles and yarn are many, and most important: I like what they sell.
- Garconne (Gerberaustrasse 7b): fabrics, trimmings, clothing, sewing workshops.
- Welt der Handarbeit (Salzstrasse 37-39): yarns and accessories for knitting, crocheting, embroidery and other needlework. Fabrics (specially Aida and linen for embroidery), kits and patterns in the upper floor. Workshops.
- Marlies Ursula Seemann Stoffladen (Salzstrasse 22): fabrics.
- Landpartie (La Provence) (Schusterstrasse 25): Provence style deco shop with a selection of fabrics sold by the metre, home linen, ceramics and other accessories.
- Karl Etoffe & Max Tessutti (Marienstrasse 14): fabrics.
- Stoff-Galerie (Konviktstrasse 10): fabrics.
- Stoffe Rosowski (Wasswerstrasse 10): fabrics.
- Old English Store (Herrenstrasse 56): British style deco shop: home ware, home linen and other home accessories, stationery, selection of fabrics sold by the metre, selection of tea blends.
- Busatti (Gerberaustrasse 17): Italian home textiles.
- Hild Naehmaschinen (Salzstrasse 41): sewing machines, sewing workshops.
- Barbel's Naehstube (Merianstrasse 8): sewing machines, sewing accessories.
- Ernst Trapp (Munsterplatz 28 - Buttergasse): yarns, haberdashery, clothing.
- Wolle Roedel (Merianstrasse 9): big selection of yarns and knitting/crochet accessories.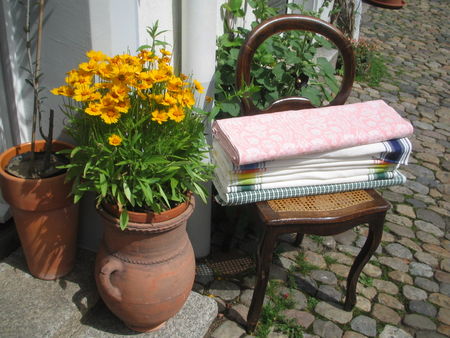 Paper goods/Art materials:
If you like cardmaking, scrapbooking... Freiburg is the city for you. Other art materials are easily found too.

- Cartola (Gerberaustrasse 11): paper goods, stationery.
- Idee (Kaiser-Joseph Strasse 209): three story shop of art/hobby materials (I got my kumihimo tool here!)
- Palette (Kaiser-Joseph Strase 265): art materials, good selection of paper.
- Kuri (Salzstrasse 49): art materials.
- Gutenbergdruckerei Papeterie (Konviktstrasse 14): paper goods, cards.
more in the next post...