Art/Antiques/Curios:
Difficult to visit all of them on a short trip. These are some that caught my eye.

- Langenbeck (Gerberaustrasse 6): metal antiques and replicas for period hauses. Beautiful period tiles from Replicata.
- Silvia Steinhauser (Gerberaustrasse 10): Antiques and deco shop. Items from Green Gate.
- W. Scherb Antiques (Kartauerstrasse 32): small antiques shop.
- Teppichgalerie Pir (Konviktstrasse 49): antique oriental rugs.
- Galerie Springmann (Schusterstrasse 25): art gallery, fine prints.
- Antiquitaten am Schwabentor (Konviktstrasse 53)
- Galerie Putz (Konviktstrasse 3): art gallery, fine prints.
- Gunther Roth (Shusterstrasse 13): small shop loaded with fascinating antique toys, miniatures and holiday decorations.
- Schlepprock (Grunwalderstrasse 23): vintage clothing, nice Black Forest folk dresses.
- Etcetera Antik (Grunwalderstrasse 10): vintage jewellery.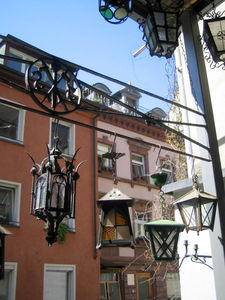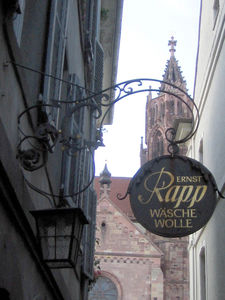 Books:
There are lots of bookshops for new and second hand books. Some of them are:

- Buchhandlung zum Wetzstein (Salzstrasse 31): beauriful book editions, fine prints, events.
- X fur U (Rempartstrasse 35): comics, graphic novels, illustrated books.
- Rombach and Walthari: big book stores in Bertoldstrasse, selection of books in foreign languages.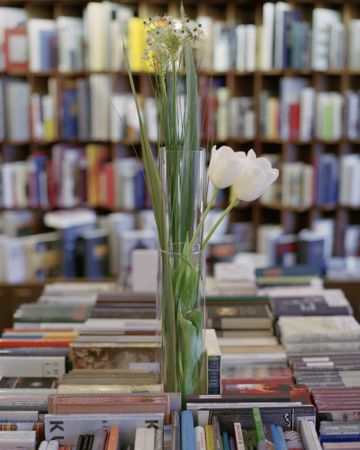 (photo from Buchhandlung zum Wetzstein)

Ethnic deco/accessories:
Shops of ethnic decoration and accessories are very numerous. It seems to be a very popular style.

- MiaCasa (Gerberaustrasse 3): home decoration, colorful home linen and accessories.
- Sahara (Gerberaustrasse): home decoration, accessories.
- Welt Laden (Gerberaustrasse 12): home decoration and accessories, fair trade.
- Taimani (Gerberaustrasse 7 and Herrenstrasse 45): oriental accessories, beads.
- Mulan (Salzstrasse 28): Asian furniture, accessories, clothing.
- Gaf Gaf (Gerberaustrasse 25): home decoration, accessories.
- Kido (Fischeraustrasse 14): Japanese home decoration, accessories, clothing, fabrics.
- Milagro (Gerberaustrasse 28 Agustinerplatz): Frida Khalo inspired accessories and home decoration.
- Marien (Salzstrasse 25): home decoration and accessories. Items from Ayala Bar and Taj.
- Momentmal (Gauchstrasse 1-3): home decoration, accessories, clothing from India and Nepal.



Food:
We stayed in our friend's house so we mostly cooked at home. But Freiburg has very nice places to eat out. From the ones I visited these are some I'll recommend.
- Harem (Gerberaustrasse 7c): nice Turkish restaurant. Lunch menu from 5.70 euros.
- On Herrenstrasse there is a small oriental grocery shop. Everyday they make delicious fresh fruit juice at 1.90 euros a glass.
- Feierling (Gerberaustrasse 46): a very popular brewery with biergarten. Nice place to sit and enjoy a fresh beer under the trees.
And finally these are some of the numerous shops selling tea and coffee blends:
- Teekontor (Oberlinden 7)
- Teehaus Martin (Schusterstrasse 34-36)
- Tee Peter Kaffee (Schusterstrasse 17)